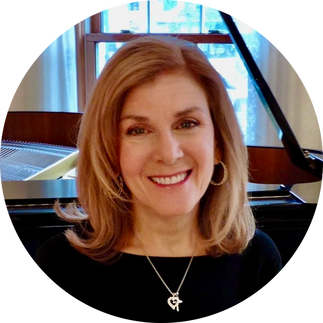 Sincere and transparent are words that describe Michele Wagner. She writes songs about hope from God. Michele is a nationally known contemporary Christian recording artist who grew up in Cleveland, Ohio.
She received her Bachelor's in Music Education, with a major in voice and a minor in piano from The Ohio State University in 1983.
She moved to Nashville, Tennessee in 1984 to begin her music career.
She was signed as a staff songwriter with Meadowgreen Music Publishers in 1985.
In 1989 the Benson Music Group signed Michele to a recording contract and she released her self-titled debut in 1989.
Christian Research Report, a national music journal, named Michele as the country's best new artist that year.
Michele's first, self-titled album, and her second album, A Heart That's Free contained four number one national hits, and her third album, entitled Safe Place, was named by Pulse Magazine as one of the 10 best Christian albums in 1992.
Michele was selected to be the vocalist for the nation's largest National Day of Prayer observance held in Cleveland, Ohio in 1992. CBS television stated in their evening broadcast, "Michele Wagner had those attending the observance enraptured."
CBS requested that Michele be the talent for the only major network TV advertisement for the 1993 observance.
The ad was produced around the chorus of Michele's song, "I Will Pray for You."
Her fourth released album, Heart of the Journey, included her first music video, which was viewed on Z-TV.
The title song, "Heart of the Journey," was the theme song for the 1994 National Acteen Convention held in Birmingham where Michele was the guest artist, and was featured on the ACTS Cable Network's, "Faith and Values" program.
Michele's CD entitled "Michele Wagner - A Collection Vol. 1 one is a compilation of Michele's four previously released CD's.
Michele's songs on her CD, "A Miracle of Hope", are described by Michele as "intimate and reflective personal prayers" that invite the listener on a healing journey with Lord.
"Passionate and worshipful", these 14 songs reveal God's truth amidst our own weakness and brokenness. These songs can allow you to experience God's embracing love for you.
Michele's "Blind Now I See" CD contains nine songs written directly from God's
Word and her "Out of The Overflow" a fresh production of four new songs and two reproduced classics.
Michele also digitized her first album (1984) "Higher Than Mine".
These are her first songs she composed after Jesus became Lord of her life.
Michele states that her songwriting is a "natural overflow of her walk with the Lord."
The listener will notice a theme of hope for a broken-hearted world.
Her songs communicate that one's self-worth and value can only be found in Christ.
Michele's ministry objective is to write and sing songs of hope to broken and wounded hearts and tell them they are healed and freed forever only through the love of Christ.
All her songs invite the listener into a worshipful experience where lives are renewed, and minds transformed through hearing the truth and love of Jesus Christ.
You can find her new songs on her website.
Michele, her husband Gregg reside in Broadview Heights, Ohio and attend Cuyahoga Valley Church where Gregg is the Administrative Pastor and Michele ministers in music.
Their son Chris and his wife Whitney live in Raleigh, NC where Chris works as Sending Director at The Summit Church and Whitney teaches first-grade at Thales Academy and serves in the Children's Ministry at Summit.